Temples In Haryana – Info, History, Temple Timings, And Photos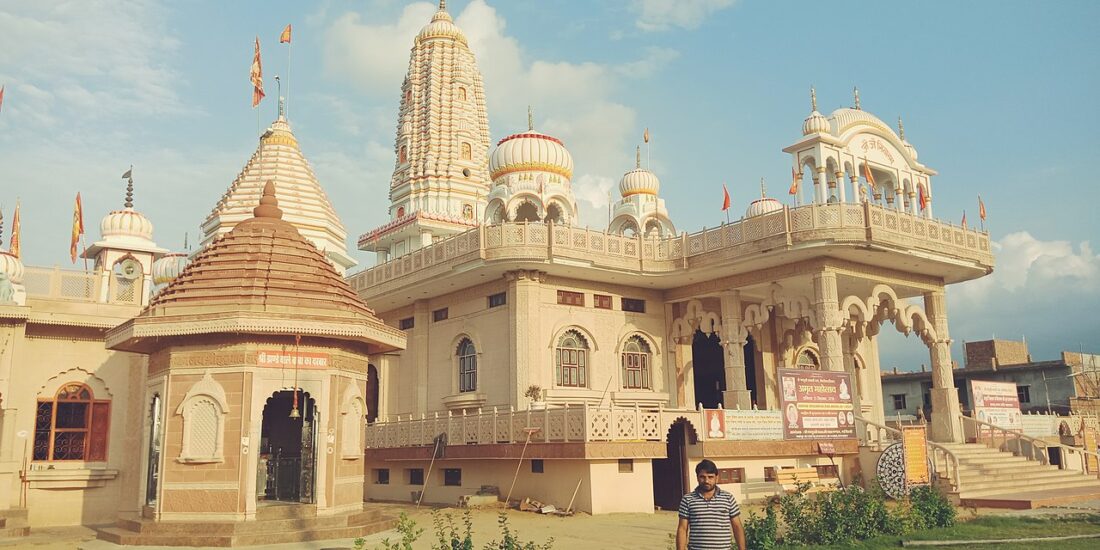 The state of Haryana is highly renowned for a variety of things. Aravalli hills are located at the base of this ancient city. It has a unique religious meaning. The stunning temples in Haryana City serve as reminders of ancient times. Additionally, their rich culture and heritage make it a popular tourist destination. 
Here is a list of the most well-known temples and religious sites that showcase Haryana's natural beauty and rich cultural heritage:
KARNESHWAR MAHADEV TEMPLE, KARNAL 
A Shiva linga (Karneshwar) and other gods are in the temple, which is made of marble. Check out the elaborate Durga Bhawani Mandir, which also features intricate marble and vast murals honouring numerous Gods and Goddesses. If you visit in the evening, you can see the temple beautifully illuminated with vibrant hues. It might also be a good idea to visit the saint Peer Baba, who is highly regarded.
Timings: 6:00 AM TILL 8:00 PM
MATA MANSA DEVI TEMPLE, CHANDIGARH
One of the well-known Shakti temples of North India, Mata Mansa Devi, is located in the Haryana state's Panchkula. The Mata Mansa Devi is honoured at this revered Siddh Peeth.
From 1811 to 1815, Maharaja Gopal Singh of Manimajra built the current Shri Mansa Devi main temple. Manimajra State was the patron of this shrine.
Timings: 6:00 AM to 8:00 PM 
SAVITHRI SHAKTI PEETH, KURUKSHETRA
This beautiful Maa Bhagwati's Mandir, one of the 52 Shakti Peethas of Maa Sati, is located in the open and serene spiritual environs of the Dwaipayan Lake in Thanesar town of District Kurukshetra, Haryana. One of the first temples dedicated to the ferocious goddess Maa Kali is Maa Bhadrakali's Shrine. According to the well-known Shiva-Sati legend, Mata Sati's right ankle is said to have fallen into the well in front of this temple. In front of the primary statue of Maa Kali, which everyone is currently worshipping, is a marble representation of the right ankle.
Temple Timings : Summers: 5:50 AM till 8:00 PM
Winters: 6:15 AM till 7:30 PM
Bhuteshwar Temple honours Bhuteshwar, a manifestation of Shiva. Located in Jind, Haryana, a city renowned for its massive number of Shiva-related temples. Raghbir Singh, the district's ruler, built a temple that became known as the Bhuteshvara temple. Shiva is the patron god of this temple. The Bhuteshvara temple is known as Rani Talab since a sizable water tank surrounds it. The Hindi term "ta-lab" means "pond" in English.
Temple Timings: 6:00 AM till 8:00 PM
BHIMA DEVI TEMPLE, PINJORE 
The temple is situated in the Panchkula district of the Indian state of Haryana's Pinjar city. The ruins of this ancient Hindu temple, constructed during the eighth and eleventh centuries, are located within the temple complex. Which, by the Punjab Ancient and Historical Monuments and Archaeological Sites and Remains Act-1964, was designated as a protected monument in 1974.
Sculptures at the Bhima Devi Temple were created under the rule of Gurjar Pratihar. Most of the buildings and idols destroyed during the reign of Aurangzeb during the Mughal era are from the time of Gurjar Pratihar.
Temple Timings: 5:00 AM till 8:00 PM
Given its connections to the Mahabharata, Karnal also offers several fascinating places of worship. And to make your stay conveniently comfortable and near to all these temples as mentioned above is Noormahal Palace, one of the best hotels in Karnal, which honours the great monarchy of the time of the Indian maharajas by fusing features from the ancient Mughal and Rajputana schools of architecture in a beautiful way. The Noormahal Palace Hotel in Karnal, India, embodies warmth and comfort for all visitors by upholding the legacy of India's profoundly ingrained past heritage. It is a distinctive fusion of traditional royal essence with modern conveniences. Karna Lake in Karnal is also a popular tourist destination. It lies 125 kilometres from Chandigarh and Delhi, acting as a halfway stop for those taking the renowned Grand Trunk Road between the two cities.