Unique Destination Wedding Venues Near Delhi For A Picture-Perfect Celebration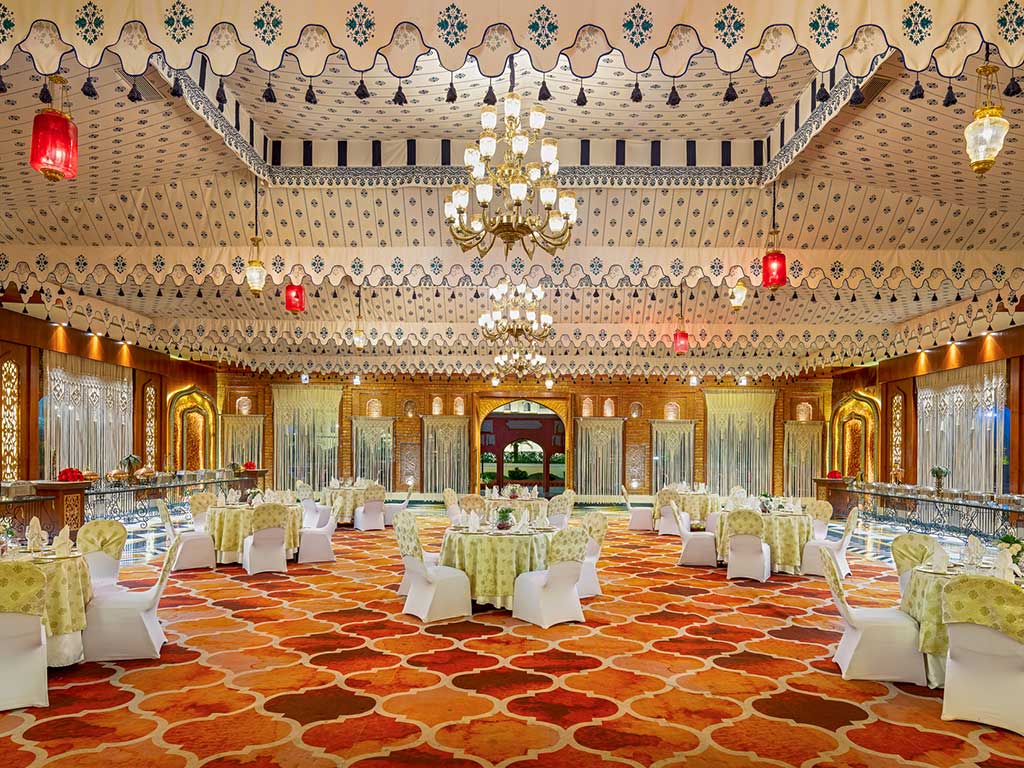 Weddings are special occasions that require a venue that is both unique and memorable. A destination wedding near Delhi can provide you with a truly memorable experience for your big day. There are many stunning venues in the region surrounding Delhi which combine luxury, grandeur, and natural beauty. As part of this article, we will look at five unique wedding venues near Delhi that promise to provide a picture-perfect backdrop to your celebrations. There are a variety of venues available for your special day, ranging from regal palaces to elegant lakeside resorts.
Fort-Palace Neemrana, Alwar
An elegant and historic venue, Neemrana Fort-Palace in Alwar is nestled in the Aravalli Hills. There is nothing more breathtaking than a destination wedding near Delhi in this 15th century fort that has been transformed into a luxury hotel. Photographers will find the fort to be a paradise, with its spacious courtyards, stunning architecture, and panoramic views. A wedding at Neemrana Fort-Palace is guaranteed to be an unforgettable event thanks to its regal ambiance and excellent hospitality.
Roseate Hotel, New Delhi
The Roseate in New Delhi is an excellent choice for couples seeking a contemporary and stylish wedding venue. A tranquil and picturesque setting is created by the presence of lush greenery and water bodies that surround this luxurious property. In addition to indoor and outdoor areas, the venue offers a variety of options for both the ceremony and reception, allowing you to tailor the event to your personal preferences. A sophisticated and chic wedding can be held at The Roseate due to its modern architecture, elegant interiors, and impeccable services.
Resort & Spa, Heritage Village, Manesar
A blend of traditional charm and modern amenities awaits guests at Heritage Village Resort & Spa in Manesar. Rajasthan's rich cultural heritage is reflected in the elegance of the resort, whose architecture reflects the grandeur of Havelis and palaces. With lush gardens, elaborately designed banquet halls, and comfortable accommodations, this venue creates the ideal setting for a wedding celebration. In addition to its warm hospitality and world-class facilities, the Heritage Village Resort & Spa is conveniently located close to Delhi, making it the perfect destination for a destination wedding.
A hotel located in Gurugram by the name of ITC Grand Bharat
The ITC Grand Bharat in Gurugram is an opulent and elegant luxury resort. A harmonious blend of traditional and contemporary elements is evident in the resort's architecture, which draws inspiration from India's rich heritage. An elegant and regal wedding near Delhi would be enhanced by its expansive gardens and exquisite ballrooms. You and your guests will enjoy an unforgettable celebration at ITC Grand Bharat, complete with curated menus and personalized décor.
Located in Karnal, the Noormahal Hotel is the ideal wedding destination near delhi for couples looking for a perfect combination of luxury, elegance, and convenience. The hotel provides a stunning setting for a fairytale wedding with its opulent architecture, lush gardens, and impeccable service. There is plenty of space for hosting grand celebrations in the hotel's spacious banquet halls and outdoor venues, while the hotel's wedding planners ensure that every detail is taken into consideration. Noormahal Hotel's exquisite decor and delicious catering options make it an ideal choice for a picture-perfect celebration for the couple as well as their guests.
Udaipur's Lalit Laxmi Vilas Palace
The Lalit Laxmi Vilas Palace in Udaipur is a magical destination for a fairytale wedding if you are willing to venture a little bit farther from Delhi. The hotel enjoys an enchanting setting against the majestic Aravalli Hills and Fateh Sagar Lake. A romantic atmosphere is created by the ornate architecture, lush gardens, and serene surrounding areas of the hotel. An unforgettable wedding experience is assured at the Lalit Laxmi Vilas Palace, with its luxurious accommodations, regal banquet halls, and breathtaking views.
Final thoughts
Having a destination wedding near Delhi allows you to escape the city's hustle and bustle and enjoy a relaxing and tranquil environment
Let your celebration take place in a picturesque and unique setting. From historic forts to contemporary resorts, the five wedding venues near Delhi listed in this article offer a range of options to meet the needs of different preferences and themes.
In addition to the regal Neemrana Fort-Palace in Alwar, New Delhi's Roseate provides contemporary elegance, Manesar's Heritage Village Resort & Spa offers a traditional charm, Gurugram's ITC Grand Bharat offers opulence, while Udaipur's Lalit Laxmi Vilas Palace reflects enchanting beauty. Each venue promises to create a picture-perfect backdrop for your special event.
Besides providing stunning surroundings, these unique wedding venues also provide impeccable hospitality, world-class amenities, and customized services based on your requirements. A seamless and memorable wedding experience is ensured at these venues, which range from breathtaking ceremony areas to luxurious accommodations for your guests.
Consider factors such as guest accommodations, transportation, and local attractions when planning your destination wedding to enhance the overall experience for your family and friends. The process of planning a wedding can be made simpler and more enjoyable if you work closely with a wedding planner or the venue's event team.
It is clear from the above that hosting a destination wedding near Delhi offers an opportunity to create an event of a lifetime. This article offers a glimpse of only a few of the unique wedding venues near delhi available. These venues near Delhi will allow you to create the wedding of your dreams, regardless of whether you choose a royal affair or a contemporary extravaganza. Make unforgettable memories in these scenic and enchanting locations as you embark on this unforgettable journey.